World's Oldest Pornography Discovered – It Sucks
Friday, February 15th, 2013
World's Oldest Pornography Is At Least 3,000 Years Old… And It's Bi-Curious
[Via Huffington Post]
The cast of 100 figures presents what is obviously a fertility ritual (or several). They range in size from more than nine feet tall to just a few inches. All perform the same ceremonial pose, holding their arms out and bent at the elbows. The right hand points up and the left hand points down, possibly to indicate earth and sky.
…The second scene is packed with weird happenings. Women and men dance in a frenzy around a large ithyphallic bisexual about to penetrate a small hourglass female with an explicit vulva. His breastplate depicts a female head, with a conical headdress just like his. On the left, a second bisexual in a monkey mask is about to penetrate a small, faceless female. Nearby, a pair of striped animals lies prone amid bows and arrows, while at the other end, a giant two-headed female seems to lead the ritual. Disembodied heads abound, perhaps indicating spectators.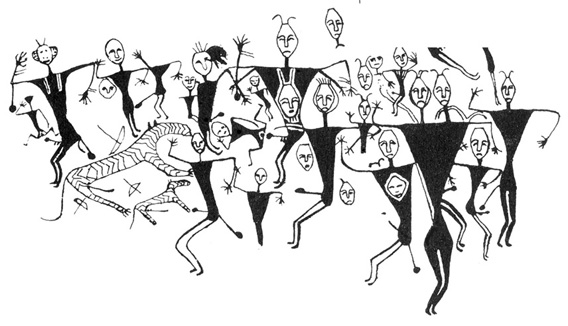 READ MORE HERE
————-
So even way back when people were testing the waters, or body parts in this case. Not much has changed!